4 X Kinesiology Tape Precut 5cm x 5m
Description
With Kinesiology Taping you can alleviate injury, relieve pain and promote healing. In physical training or practice Kinesiology Tape is applied to improve the effects of stress and muscle overload.

Through various application techniques, the Tapes may be used to combat various manifestations:
- Pain
- Movement restrictions
- Osteoarthritis
- Sports injuries
- Headaches
- Myogelosis
- Disc problems
- Sciatica or sciatic syndrome
- Lymphedema (fluid accumulation in the tactile interstitial space)
- Epicondylitis (painful tendons or muscles, for example tennis elbow)
- Carpal tunnel syndrome (compression syndrome in wrist and lower arm nerves)
- ISG problems (sacroiliac joints, sacrum & ilia joints)
- Joint twists (sprains, strains of a joint capsule and ligaments)
- Paralysis
- Polyneuropathy (disease of the peripheral nervous system)
- Urinary incontinence
- Migraine
- Menstrual problems
- And other ills...
Application comfort and duration
Within a few minutes the Tape is no longer perceived as a nuisance. Physical activities are not restricted by taping, but rather encouraged. You can shower, bathe, swim, exercise, or do any sport with the Tape. Even perspiring below the Tape is possible, as the skin breathes right through the material.

The tape should remain in place for about 1 week, while during the first 3-5 days of its application the main effect of Kinesiology Tape will be evident. Allergic reactions occur only rarely and are very often caused by simultaneously applied medication, or excessive alcohol or nicotine consumption. If in doubt, please consult with your doctor or pharmacist.
---
Technical details
| | |
| --- | --- |
| Dimensions: | 25cm x 5cm with 20 stirps per roll |
| Base material: | 100% cotton |
| Glue: | acrylic adhesive |
| Pre-stretched: | 10% pre-streched base material |
| Elasticity: | 50 - 60% in the longitudinal direction |
Color choice
The choice of colours plays a somewhat secondary role, even once they`ve been pre-selected in a therapy's supportive role. Red and Pink are meant to stimulate, activate and be warming. Blue and green on the other hand are soothing, with a cooling effect. The colours Beige and Black are considered to have a neutral effect.
Instructions
Das Kintex Kinesiologie Tape ist in seiner Anwendungsmöglichkeit sehr vielseitig und kann bei verschiedenen Problemen zum Einsatz kommen, z.B. Schmerzen oder Bewegungseinschränkungen können durch eine Tapeanlage gelindert werden. Eine Behandlung von Kopfschmerzen, Migräne, Arthrose, muskulären Verhärtungen, Bandscheibenproblemen, Lymphödemen, Menstruationsbeschwerden und vielen weiteren Anwendungsgebieten ist  unter anderem möglich. Unsere Berichte zur  Wirksamkeit der Kinesiologie Tapes beruhen auf unseren jahrelangen Erfahrungen,  sie sind wissenschaftlich nicht erwiesen. Einige unterschiedliche Anlagetechniken für unsere Tapes finden Sie auch in unseren Videoanleitungen: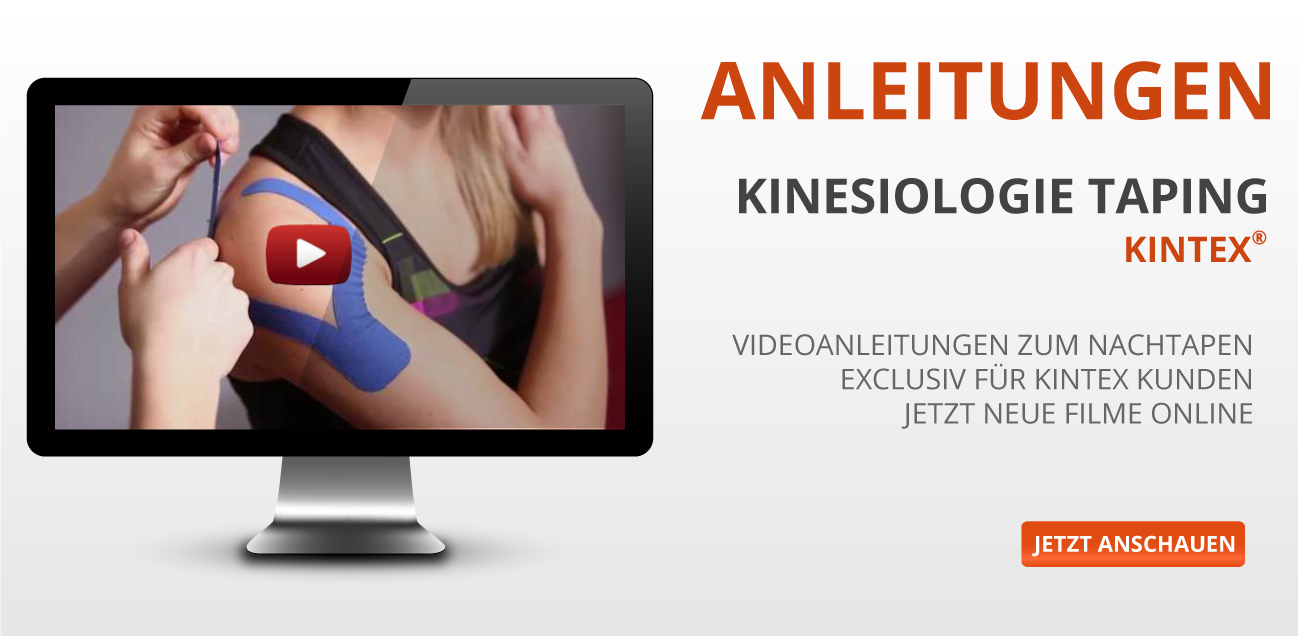 Bitte denken Sie daran, dass jeder Mensch einzigartig ist und eine individuelle Diagnose eines Fachmanns zu einer gezielten Therapie gehört. Bitte wenden Sie sich bei Fragen oder Unklarheiten an einen Arzt oder Therapeuten. Unsere Experten können Sie gerne unter experten@kintex.de kontaktieren.
---