12 Rolls Kinesiology Tape "Classic" 5cm x 5m
Description
Kintex Classic Tape for Kinesiology applications is very flexible and stretchy due to the wave-like S-shaped structure of the hypoallergenic acrylic adhesive. The optimal adaptation to the structures of the human body such as the skin, fascia, muscles, meridians etc. is ensured and promoted by our tape. Our kinesiology tape is very durable, waterproof and tear-resistant.

Application- comfort and duration
Just a few minutes after the tape is applied, it is no longer perceived as annoying and therefore there is no restriction of activities by the tape. Swimming, bathing, showering or doing sports is no problem with the tape. The breathable material of the tape allows sweating and allows the skin underneath to breathe.

The application of the kinesiology tape takes about one week, with the main effect occurring in the first 3-5 days after application. Allergic reactions rarely occur when using the tape. These are usually caused by the current intake of medication or intensified by simultaneous consumption of alcohol or nicotine. In case of doubt, please consult your doctor or pharmacist.

The effect of the Kinesiology Tapes is not scientifically proven, our statements are based on our years of experience and case studies.
---
Technical details
| | |
| --- | --- |
| Dimensions:          | 5cm x 5m |
| Base material: | 97 % cotton / 3 % elastane  |
| Adhesive: | Acrylic adhesive |
| Pre-stretch: | 10 % stretch on the base material |
| Elasticity: | 50-60 % in longitudinal direction |
color choice
You are free to choose your colours from our 3, 6, 12 and 24 packs. Please indicate this when you purchase.(*mandatory field)

Properties of the colours:
The choice of colours plays a secondary role, even if the colours are selected to support the therapy. The colours red and pink are considered stimulating, activating and warming. The colours blue and green on the other hand are considered calming and cooling.The colours nature and black are considered to be neutral.
Instructions
Our Kintex Kinesiology Tape is very versatile and can be used for a variety of problems, e.g. pain or movement restrictions can be alleviated by a tape. A treatment of headaches, migraines, arthrosis, muscular hardening, intervertebral disc problems, lymphedema, menstrual problems and many other areas of application is possible, among others.
Our reports on the effectiveness of Kinesiology Tapes are based on our years of experience, they are not scientifically proven.
Some different application techniques for our tapes can also be found in our video instructions: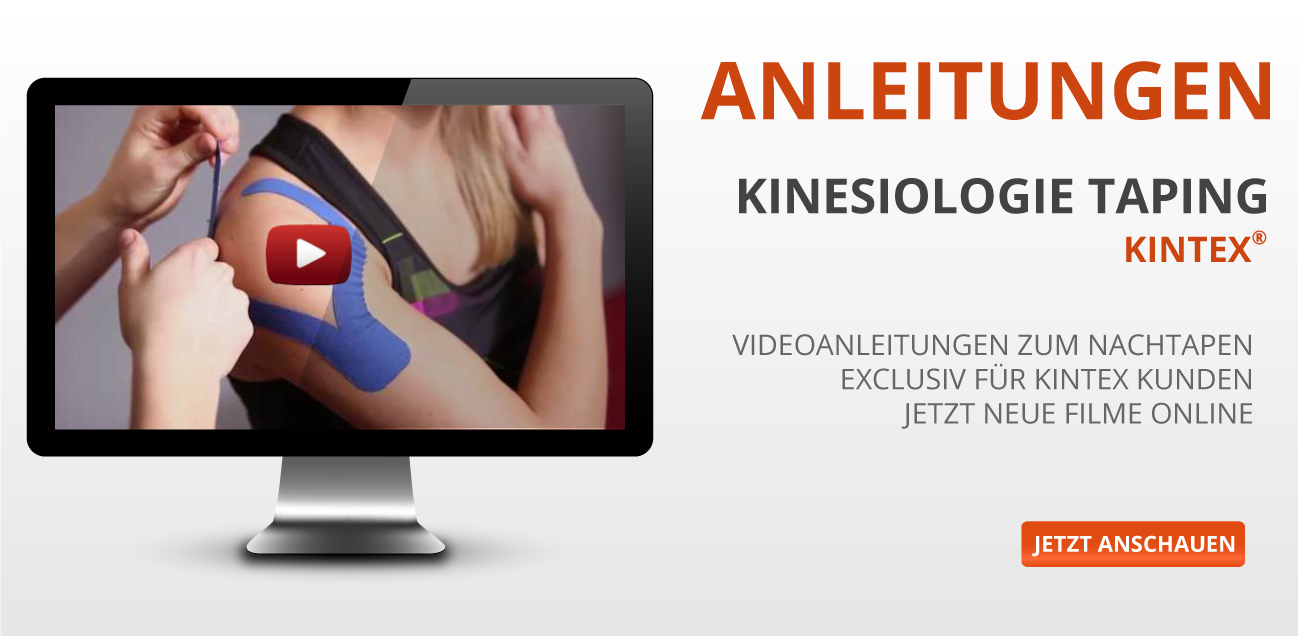 Please remember that every person is unique and that an individual diagnosis by a specialist is part of a targeted therapy. Please contact a doctor or therapist if you have any questions or are unclear. Our experts can contact you at experten@kintex.de.
---