Cross Tape blue size A
Description
What is Cross Tape?
The effect of Cross Tape is based on the far eastern medical science of acupuncture which can help to restore the physical balance with the stimulation of pain-points. The tapes were produced with polyester and polyurethan in the form of grids. The acrylic adhesive is skinfriendly. Adverse effects aren´t known. The patch doesn´t contains medicine or active ingredients!

How does the aplication of Cross Tapes works?
The skin must be thoroughly cleaned and free of grease bevor sticking the tapes. To avoid a painfull remove of the tape it´s advisable to shave the adhesive joint. The full adhesion will be achieved after a while because of the heat the skin developes. Shortly after the tape is bonded it fits to the skin and doesn´t feel distrubtive anymore. To shower, bathing, swimming or doing sports is possible without any problems. The tape should be injected 20 till 30 minutes before doing sports. Some of the aplication techniques you´ll find in our video instruction.

Where do you stick the Cross Tape?
The basic for a selective therapy is only possible by the consideration of the individuel characteristics because every human is unique. Our recommendation is to inject the tapes exclusive by trained therapists.

When is the aplication of Cross Tape prohibited?
Do not stick on open wounds or blody body parts. Do not dispose by skin diseases or skin irritations. By skin responses like rednesses or itchiness remove the tape immediately and if applicable contact a docotor or therapist.

Does adverse effects exist?
Allergy or adverse effects does very rarely exist and were often continued by taking medicine or the increased consumption of alcohol or nicotin. In case of doubt please contact your doctor or pharmacist.
Scope of delivery
Depending on your choice of size you will receive:

A (27mm x 20mm) 9 pieces per sheet - 90 plasters in total
B (36mm x 29mm) 6 pieces per sheet - 60 plasters in total
C (44mm x 52mm) 2 pieces per sheet - 20 patches in total
Color choice
Properties of the colours:
The choice of colours plays a secondary role, even if the colours are selected to support the therapy. The colours red and pink are considered stimulating, activating and warming. The colours blue and green on the other hand are considered calming and cooling. The colours nature and black are considered to be neutral.
Instructions
Our Kintex Kinesiology Tape is very versatile and can be used for a variety of problems, e.g. pain or movement restrictions can be alleviated by a tape. A treatment of headaches, migraines, arthrosis, muscular hardening, intervertebral disc problems, lymphedema, menstrual problems and many other areas of application is possible, among others.
Our reports on the effectiveness of Kinesiology Tapes are based on our years of experience, they are not scientifically proven.
Some different application techniques for our tapes can also be found in our video instructions: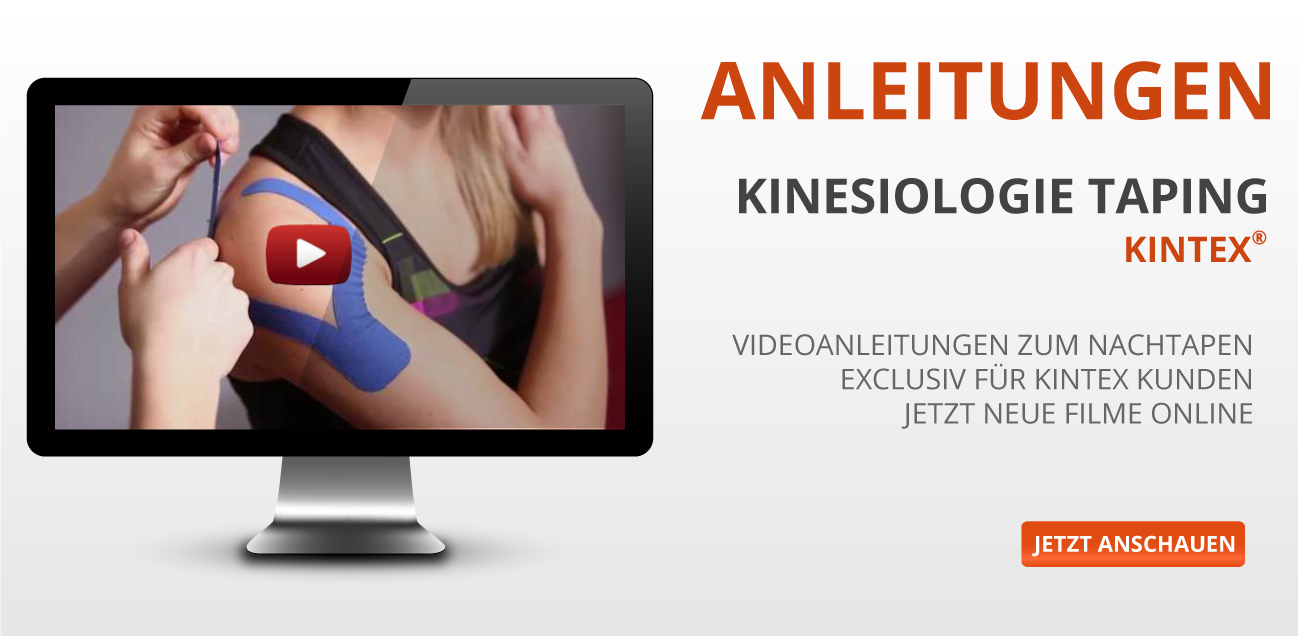 Please remember that every person is unique and that an individual diagnosis by a specialist is part of a targeted therapy. Please contact a doctor or therapist if you have any questions or are unclear. Our experts can contact you at experten@kintex.de.
---